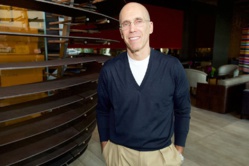 As per Jeffrey Katzenberg, the CEO of DreamWorks Animation SKG Inc., the famed Hollywood studio would be willing to a purchase by Paramount Pictures, which is owned by Viacom Inc.

"I could imagine that with a good financial partner coming with us, putting together the asset of Paramount and DreamWorks could be extremely valuable," said Jeffrey Katzenberg, DreamWorks' CEO said at the Morgan Stanley investor conference in San Francisco.

He went on to add, that DreamWorks would not be interested in the reverse scenario of it buying a stake in Paramount. More significantly, Katzenberg who has an experience of 11 years at Paramount, said the next 12 months is likely to be "choppy" for DreamWorks.

Currently DreamWorks Studio is in the middle of a turnaround and is focusing on reducing its footprint from the moody features film business. It is now gearing up on increasing its revenues from licensing original content to video streaming companies and media houses.

Last week, Paramount Pictures' CEO Philippe Dauman had disclosed that Viacom is in the process of considering selling a "significant" minority stake in the company.

As per an estimated by Todd Juenger, an analyst at Sanford Bernstein, Paramount Pictures is worth, as a whole, $4 billion.

With this information hitting the news circuits, shares of DreamWorks rose gently by 2.3% to $26.26, while Viacom's rose by 1.9% to $37.56.