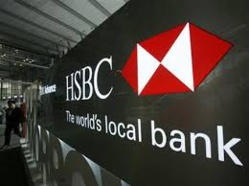 The chance to access their accounts with a voice and fingerprint verification system is being offered to those customers of HSBC and first direct who use telephone banking and the mobile app.
The issue of forgotten passwords would be tackled by this software, the bank hopes.
The move was described as "the largest planned rollout of voice biometric security technology in the UK" by Francesca McDonagh, HSBC UK's head of retail banking and wealth management.
"The launch of voice and touch ID makes it even quicker and easier for customers to access their bank account, using the most secure form of password technology – the body," she said.
Customers would be enrolled for voice ID by first direct in coming weeks and HSBC will follow by the summer. Customers would no longer need to remember a telephone security password or PIN after they have their "voice print" enrolled.
All the 300,000 wealthiest clients in the UK were enrolled for voice recognition software by Barclays in 2013. The technology had been so successful that it would be rolled out to 12 million retail banking customers, the bank had said a year later. However that did not happen.
It was considering rolling it out to its retail customers shortly, Barclays said on Friday. With the time taken to verify their identity falling from 1.5 minutes to less than 10 seconds, the software was "incredibly popular" with customers, the bank said.
All new Apple mobile devices for HSBC and First Direct have Touch ID. The customers only need to follow the instructions to link their fingerprint to the app after downloading the mobile banking app on their devices.
The voice recognition would still work if people have a cold, said Joe Gordon, UK head of customer contact at HSBC.
"We will be able to cope with people who have got colds or slight impediments. Things such as the size of your mouth or your vocal tract don't change. Neither do your cadence or your accent when you've got those little colds," he told the BBC's Today programme.
The voice biometrics technology which works by cross-checking against more than 100 unique identifiers including behavioral features such as speed, cadence and pronunciation, and physical aspects including the shape of larynx, vocal tract and nasal passages is being supplied by Nuance Communications.
According to a YouGov poll released by HSBC, Britons believe heartbeats, head hair and even saliva could form the passwords of the future along with voice and touch.
The survey shows that while 55% say they rarely update their passwords, 38% of people use the same password across most of their online accounts. The fact that their body was unique enough to be used as a password is believed by 78% of 2,038 adults questioned. 74% felt this would become the default password of the future.
Voices and fingerprints were unique, with physical and behavioural characteristics almost impossible to mimic, said Tracy Garrad, chief executive of First Direct.
"While this is the largest rollout of voice ID in UK banking, other industries will soon follow our lead," she said.
(Source:www.theguardian.com)