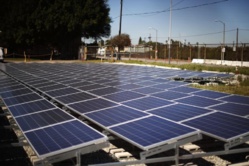 With SunEdison failing to consummate the deal, Vivint Solar Inc. has said that it has terminated an agreement with the said company under which it would have acquired SunEdison Inc., a solar energy company.

The cash-and-stock deal was announced last July was worth $2.2 billion at the time of its announcement had faced a volley of flak from investors and hedge funds as SunEdison's finances and share price had weakened substantially.

With the information hitting the news circuits, SunEdison shares shot up by 41% to $2.68 in premarket trading. Vivint's shares showed little movement and stood at $5.20.

Vivint has now disclosed that it intends to "seek all legal remedies available" as a result of the "willful breach" of the merger agreement by SunEdison.

"We believe both companies will be better off on their own," wrote analysts from Cowen and Co in a note to clients while noting that U.S. lawmakers had extended solar investment tax credits beyond 2016, which are designed to breathe new life into the industry.

Analysts have noted that the Vivint deal, which was set to expire on March 18, is likely to add more than the breakup fee of $34 million to SunEdison's liabilities.

SunEdison was not immediately available for comment.

The company has faced a growing criticism of gobbling down more than it could chew. SunEdison has been trying to grow too quickly using the M&A route for acquisitions it just could not afford. With a market value of $600 million, SunEdison has a long-term debt of $9.77 billion as of Sept. 30 Furthermore, on March 1 it has said that it will delay the filing of its annual report citing an internal investigation into its financial position.