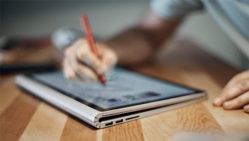 Not one to take it lying down, the U.S Air Force's Space Command has now announced its latest cyber initiative, a cyber weapon dubbed as the Vulnerability Assessment/Hunter (CVA/H). The weapon is now online and "
fully operational
".
Designed to find and fix threats for the Air Force's command network, the CVA/H will assess potentially exploitable network security vulnerabilities that may hamper USAF mission and fix them before they become an imminent threat. At the same time it is also a network security auditing and compliance tool.
Although it has been termed as a "weapon", since it can be used to find vulnerabilities in other networks as well, the CVA/H will, as of now, be primarily used for defensive purposes.
Going by a statement from the Air Force Space Command, the CVA/H provides an "in-depth assessment of information system assets such as computers, infrastructure, applications, data, and cyberspace operations".
This development should obviously be seen in the larger context of the Department of Defense's efforts at modernizing and developing cyber capabilities, such as the recently announcing Pentagon Hacking Challenge.
The launch of this initiative comes in the wake of the Air Force's first cyber weapon – the Air Force Intranet Control Weapon (AFINC), which essentially is a first line of defense against its networks. It can be understood as a firewall that moderates all traffic that flows in and out of the U.S. Air Force's network.
Recently the USAF had also launched its
Cyberspace Defense Analysis Weapon System
, which is again a firewall for all of its unsecured network traffic that ensures that classified data is not being transmitted out.
All of these tools are under the command of the 26
th
Network Operations Squadron, who have reportedly block nearly a billion instances of suspicious network activity ever week.
The Chinese better take note, payback can often be very unpleasant.