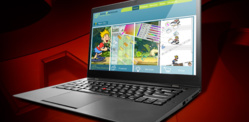 Although you may have never heard of Toonz animation software, but its very likely that you may have come across its work.

Even if you haven't seen Studio Ghibli's movies such as Tale of the Princess Kayuga and Spirited Away, surely you must have seen the animated series Futurama.

For those wanting to get their hands on the software used by Studio Ghibli, used by legendary Japanese film makers including Hayao Miyazaki, will be happy to know that the software has now gone open-source. Film studios and novice animators can all make use of it.

This move comes in the wake of Japanese publisher Dwango acquiring it from its Italian developer Digital Video. In a strategic move, Dwango is now focusing its efforts in the training and customization of the software and is selling a premium edition to companies "at a very competitive price."

"We are happy to hear that this open-source version contains the Ghibli Edition. We hope that many people inside and outside of the animation industry will utilize this software for their work," said Atsushi Okui, managing director of Studio Ghibli.

The Toonz animation software debuted in 1993. It is frequently used in converting hand-drawn rasterized art into vector graphics. Once it has been vectorized, it can be further processed by animators in 2D by creating "skeletons" for characters and fleshing it for animation work in 3D projects.

Since it has now been made open-source, the software which used to cost thousands of dollars, can now be used free of cost by aspiring film editors.

Studio Ghibli explained that the software was first used in 1995 for the making of Princess Mononoke so as "to combine hand-drawn animation with the digitally painted ones seamlessly ... in order to continue producing theater-quality animation without additional stress."

Although learning a software as deep as Toonz has quite a learning curve, but now since it is open source, aspiring animators and editors can get their hands over it and practice to become the next Takahata or Miyazaki.