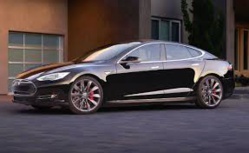 When Tesla introduced
Model S P90D
that superseded the P85D, owners of the P85D no longer had the best performance version of the luxurious electric sedan. Tesla naturally gracefully offered a discounted
Ludicrous Mode
retrofit for the P85D
, priced at 50% of the cost of upgrading to the P90D.
However, the Ludicrous Mode upgrade for $5,000, was only available if you chose to configure the vehicle. For those you chose to snooze, obviously lost out on this upgrade.
Tesla has now graciously provided its P90D customers who lost out earlier on a chance to add a
Ludicrous Mode retrofit
when they originally ordered their car. The retrofit will set you back by at least $10,000 plus taxes and labor charges for the installation.
As
Electrek
has reported, the upgrade includes the replacement of a standard fuse with a more "advanced smart fuse" which monitors and manages current more precisely. In fact it is to the millisecond.
The steel battery pack contactor also gets replaced with the Iconel superalloy that is used in Elon Musk's SpaceX's
SuperDraco
rocket engine. The impact of replacing these older components with their smarter equivalent is that the maximum output increases to 1,500 amps from 1,300, which translates to a better performance of the car.
In more specific terms, the upgraded P90D improves its 0-60 miles per hour by 10%, by dropping it down to 2.8 seconds. Furthermore, Tesla has said the distance to cover a quarter of a mile is a mere 10.9 seconds and the time to 155 mph is "20 percent faster than a standard
Model S
Performance."
If all of these improvements weren't good enough for you, do note that the upgrade earns you the P90D badge.