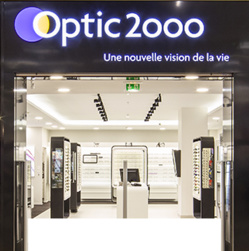 Established on the domestic market
In 1962, a handful of opticians from France merged into a large specialized firm, in forecast that the market was about to change radically and that consolidation was in order. Their analysis was correct, as eyewear was slowly included within market segments covered by the French social security, meaning that the volume of people who both needed and could afford eyewear was dramatically increased. Less than 40 years later, over 1000 sales outlets were channeling their products, and expansion didn't stop there. The acquisition of competitor Lissac in 2005 secured its position as market leader in eyewear (representing over 17% of the national market), with additional ventures in hearing aids, and a strong marketing image. GfK think tank recently surveyed the Western European market,
confirming
that France and its surrounding countries were a massive, and growing, market: "
GfK has announced the latest figures for key European retail optics markets (Italy, France, Spain and Germany), registering a turnover of €17.6 billion for total year 2017 and a positive trend in value of 0.2 percent compared to the previous year
."
Balancing design and optics
The success of Optic 2000's development did not only hinge on its ability to adapt its offer to the arrival of social security into the market. Eyewear production must carefully follow technological developments and design trends. Millions of hours of research and development have been poured into optics since Benjamin Franklin invented the bifocal, leading to today's state of the art with night-vision
contact lenses
, for instance. Additionally, eyewear being a visible accessory, and placed on the most identifiable place of the body, its design is a central part of the development. Glasses have gone through - and followed - every trend in fashion since they were invented, be it for medical eyewear or fashion sunglasses, lest the company lose touch with its market. Design is actually a big part of the business and has induced a highly-profitable luxury sub-segment: "
bespoke spectacles take three weeks to design and make, with prices as high as £10,000
",
says
business reporter Will Smale. Additionally, design is rendered more complex by technical parameters. As glasses are either worn or roughly stuffed into a pocket, the material they are built with is paramount. It must be flexible, light, resilient and aesthetic. For the past 50 years, Optic 2000 has conducted research on all of these parameters, so as to safeguard the quality of its products, and the underlying growth rate.
The new challenge : connected eyewear
Now that Optic 2000 has established itself as market leader, it is addressing the next phase in the eyewear market. Optics are not immune to the tidal wave of the Internet of Things, as eyewear is being identified as a potential recipient of sensors and communications devices. Optic 2000 has therefore released, on the occasion of the CES 2019 in Las Vegas,
its new smart glasses
. The new product enables driver-fatigue monitoring, so as to address the numerous yearly road casualties in the world, due to drivers falling asleep at the wheel. Additionally, the same smart glasses address the growing silver economy, as position sensors enable automatic signals to be sent, should an elderly person fall. The silver economy website
posts
:
"During the next few decades, the share of global population aged 60 or more is likely to rise to historically unprecedented levels. According to the latest estimates, by 2050 there will be 2 billion people aged over 60 (22% of world population). In 2050, world population is projected to be 3.6 times larger than it was in 1950."
Those same sensors have an industrial application, as workers in remote stations are required to carry a "
dead man switch
", which signals Emergency Medical Teams if the worker has fallen and is immobile. Numerous other market segments will be addressed by Optic 2000 in coming years.
A new powerhouse on the global market?
Optic 2000, once again, is not acting on a whim, but on the basis of a strategic analysis. General secretary Yves Guénin says "
We already know for a fact that French tech is universally recognized. We also know that the population in need of eyewear will grow steadily in the decades to come. I am convinced that Optic 2000 has a big role to play on the international market, whichever the segment. We have the technology, and we have the resolve
". The European eyewear market has indeed started consolidating in recent years, due to its tricky position between American and Chinese competitors - namely with the
merger
of French and Italian eyewear manufacturers, Essilor and Luxottica. French and European eyewear specialist are therefore slowly going to start turning their attention to foreign markets in coming years, and Optic 2000 has already gotten into position for this new challenge. The firm became international in 1999, when it addressed the Swiss market.
Optic 2000 has always been accustomed to the balancing act, between style and performance, as its development on the French market was subjected to constant technological innovation in optics, and rapidly-changing fashion. The integration of a third parameter, electronics, into its marketing drive should therefore be well within management's capabilities. And, with a flourishing global market, the firm will have plenty of opportunities to serve the public.