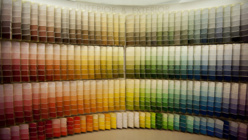 Sherwin-Williams Co is all set to acquire its U.S. rival, Valspar Corp in an all-cash deal valued at around $9.3 billion. This includes debt and equity.

Sherwin-Williams has agreed to pay a premium of 41%, which amounts to $113 a share. The price has been arrived at by taking the weighted average share prices of Valspar's for the past 30 days, said the duo in a statement.

On Friday, Sherwin-Williams shares were seen at $288.69 on the New York Stock Exchange, while Valspar's closed at $83.83.

In a statement, Sherwin-Williams said the deal had "an enterprise value of about $11.3 billion."

"The combination expands our brand portfolio and customer relationships in North America, significantly strengthens our Global Finishes business, and extends our capabilities into new geographies and applications, including a scale platform to grow in the Asia-Pacific and EMEA (Europe, the Middle East and Africa)," said John Morikis, Sherwin-Williams CEO in a press release.

The statement went on to say that as per estimates the combined company will have an adjusted earnings before interest, tax, depreciation and amortization (EBITDA) of $2.8 billion. Its revenues is expected to be around $15.6 billion and will have around 58,000 employees.

After the merger, Sherwin-Williams will continue to be headquartered in Cleveland. Valspar, on the other hand is based in Minneapolis.

Sherwin-Williams products are marketed not only with its own brand name but are also found in Krylon, Thompson's Water Seal, Dutch Boy, Minwax, and other brands. As for Valspar, the company not only makes coatings for the industrial, construction and transportation markets, it also sells consumer paint under its own name as well as under Devine Color, Cabot Stain, and other brands.

After the merger, the combined company expects to save at least $280 million within two years.

Both companies have stated that apart from a one-time expenditure, the merger will increase their revenues.

The board of directors of both companies have unanimously approved the deal. The merger, subject to regulatory approval, is slated to close by the first quarter of 2017.

Both companies expect antitrust regulators to approve the merger with "minimal divestitures". However, in the unlikely event that regulators force the companies to divest some of their businesses whose total revenues exceed $650 million, the transaction price would be adjusted to $105 in cash per Valspar share. However, if the total required divestures exceed $1.5 billion in 2015 revenues, Sherwin-Williams has the right to call off the deal.

Sherwin-Williams said it would maintain its current dividend and significantly reduce its debt by making use of free cash flow. Furthermore, it will finance this merger with its existing cash in hand, new debt and credit facilities provided by Citigroup Global Markets Inc.

J.P. Morgan Securities LLC acted as Sherwin-Williams financial advisor while Citibank was its lead financial adviser.

Bank of America Merrill Lynch and Goldman Sachs are acting as Valspar's financial advisers.