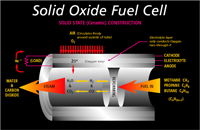 No matter how energy efficient a gadget is, it is ultimately limited by its energy source – the ever pervasive lithium ion batteries.
That is what we thought, until now.
Researchers from the Pohang University of Science and Technology
, South Korea, have crafted a
miniaturized solid oxide fuel cell
which could revolutionize existing battery technology. It can be used in every gadget starting from mobile phones to drones. What's even better, the technology can be scaled up for use in electric vehicles too.
The researchers claim that this new fuel cell is the world's first to combine porous stainless steel with thin-film electrolyte and electrodes that are "of minimal heat capacity."
The result is a dramatic increase in durability (lithium-ion's biggest weakness) and performance. In real world terms this could translate to smartphones requiring a charge once a weak and drones that can fly for a straight one hour.
Once they hit the shelves, we can kiss goodbye to battery related anxieties and embrace increased battery longevity.