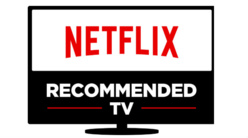 In an effort aimed at improving its services as well coax manufacturers to improve speeds on Smart TVs, Netflix launched its much vaunted "Recommended TV" label.
This year it is upping the bar on this level and wants to ensure that every television set that is branded as a Smart TV meets five out of its seven criterias, including fast app launch, fast app resume, instant on, TV resume, updated Netflix versions and lastly a Netflix button and icon.
So far only
two manufacturers have got the "Recommended TV" logo
so far: LG with its television sets with WebOS 3.0 including the UH8500 and the UH9500 models and Sony with its Android 4K series, including models such as SD85 and XD85.
Among the notable manufacturers who have yet to make the cut is Samsung.
As per Netflix, TV manufacturers who carry its recommended logo tend to perform better since they have "passed a rigorous evaluation process that we established based on the factors our members tell us matter most."
What isn't clear is how the Netflix button and easy access to its icon has anything to do with performance related issues. It's more to do with branding and self-promotion.
For those who like to binge watch serials from the streaming service however may appreciate the label. The instant on and the fast app launch criteria will surely ensure decent performance.