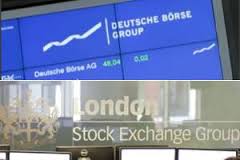 The deal would seal an alliance that has been talked over for years now.
It was in a process of detailed discussions with its German rival about an all-share merger, the LSE said on Tuesday. With Deutsche Börse shareholders owning 54.4% of the combined company and LSE shareholders holding 45.6% in the new entity after the deal, the balance of ownership favors Frankfurt under the proposed structure of the deal.
However equal numbers of members from each business would be present in the board of the merged company.
"The boards believe that the potential merger would represent a compelling opportunity for both companies to strengthen each other in an industry-defining combination, creating a leading European-based global markets infrastructure group," the UK exchange said.
This is not the first time that the two exchanges have considered combining. Just before a rival bid for the LSE from Sweeden's OM Gruppen scuppered the deal in 2000, both the exchanges had agreed to merge. Then in January 2005, The LSE rejected a formal £1.3 billion offer from Deutsche Borse.
After its shares surged in response to a media report about a possible merger, the LSE confirmed the latest talks. Valuing it at about £9.5bn, the LSE shares jumped 17% to £27.06. Deutsche Börse shares rose 7% to €81.71, giving it a value of almost £12bn.
Both Xavier Rolet, the LSE's chief executive and Carsten Kengeter, the boss of Deutsche Börse are keen dealmakers. Last year Rolet had said that he expected to merge with a big rival. The buying of LCH.Clearnet, one of the number of acquisitions by the LSE, gave the UK company a clearing house for trades in derivatives – contracts that allow traders to bet on movements in asset values, as the LSE was being expanded by Rolet by buying a number of businesses.
Apart from creating a powerhouse in the world of derivative trading, the merger would generate extra revenues and cost savings, the LSE said. While the LSE operates SwapClear, a clearing service for over-the-counter derivatives, Deutsche Borse owns Eurex, Europe's largest derivatives exchange.
The companies are understood to believe combining their business would bring in more business from customers who would benefit from lower costs and reduced capital requirements for their trades as the two businesses do not work together.
"If the deal were to go ahead it would create a clear market leader for Europe and one of the largest exchanges in the world for trading and risk managing derivatives," said David Cheetham, a market analyst at the foreign exchange broker XTB.com.
The merged company's board would have equal numbers of members from each side and all major business divisions would operate under their existing brand names if a deal is agreed.
The LSE declined to comment on who would lead the company or any aspects not covered in its official announcement.
(Source:www.theguardian.com)