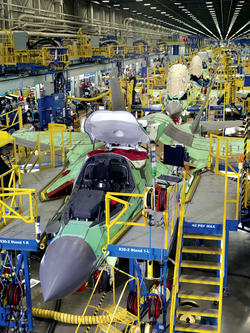 Lockheed Martin, one of the Pentagon's top weapons manufacturer is also known for making top notch big military satellites which take years to complete is now ramping up its production lines, setting ambitious targets and more significantly is smartening its manufacturing process so as to incorporate new technologies which significantly lowers completion time and manufacturing costs.

As per Rick Ambrose, who heads Lockheed's space business, over the course of the next three to five years his target is to lower the development cost of a new satellite by more than 40% and get to a point where satellites could be reprogrammed for new mission while in orbit.

With the USAF nearing decisions which will see a significant increase in large missile warning systems that protect communication satellites, Lockheed Martin is scrambling to become more adaptable to the changing environment and lower production costs to make itself more competitive.

"Ultimately (the government) is going to go to a new architecture, so by reducing the cost, it helps the government and it also helps us get to the future," said Ambrose in an interview at the annual Satellite 2016 conference.

Faced with an increase competition from peers such as Northrop Grumman Corp and Boeing Co, and other firms Lockheed Martin's cost cutting and adoption of new technologies in its manufacturing process makes perfect sense.

The U.S. Air Force has yet to release its acquisition plans for the new satellite systems.

Ambrose has disclosed that by adopting new technologies Lockheed Martin has already cut $2.8 billion from its main satellite manufacturing portfolio, which includes the Advanced Extremely High Frequency (AEHF) protected communications satellites and the Space-Based Infrared System missile warning satellites. Furthermore, by streamlining its operations it has also lowered its operating costs.

In the last decade, Lockheed Martin has built 850 satellites. With the streamlining of its operations and with it adopting newer technologies in its manufacturing process, it aims to shave off 20 months from the manufacturing of the next generation global positioning satellites systems.

One of the ways it could do that it by standardizing common parts among its portfolio of satellites and the interfaces for payloads said Ambrose. Adopting these methodologies could help reduce the time to build new satellites.

Ambrose went on to say, Lockheed Martin is also in the process of adopting new technologies such as 3D printing which could result in dramatically shortening production time and cost. Lockheed is expected to complete the testing of a 3D printed 26 inch propellant tank in the second quarter and has already begun working on a 46 inch tank.

Lockheed Martin has some experience in 3D printing components for satellites: the Juno spacecraft, due to arrive near Jupiter on July 4, has its 3D printed components. Ambrose said the Air Force is now in the process of testing 3D printed parts on the next AEHF satellite.