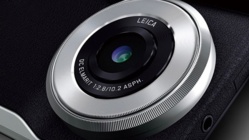 The big event at the CP+ camera show in Japan showcases the coming of age of the smartphone's camera.
Chinese electronics giant Huawei has disclosed that it has entered into a strategic partnership with German lens manufacturer Leica, known for making the best and the
most expensive cameras and lenses
, in the world.
In its
press release
, has said that "both technology and photography brands combining their shared ethos in a long-term commitment to the art of craftsmanship ... to create a powerhouse in the reinvention of smartphone photography."
The nature of this tie-up is such that it will "span research and development, design, co-engineering, user experience, marketing and retail distribution".
No other detail of this strategic partnership is available other than this detail.
Unlike its peers in the lens making industry, Leica makes lenses for just one smartphone Panasonic's photogenic and photography-oriented
CM1
.
Leica has also capitalized its tie up with Panasonic by rebranding Panasonic's mirrorless cameras with its own name, which commands higher price points.
As per Oliver Kaltner, Leica's CEO, the company would bring its "comprehensive expertise in optical engineering to the long-term partnership with Huawei in order to achieve the best possible imaging results in the field of smartphone photography -- and to take it to the next level of quality."
What is left unsaid is whether Huawei's smartphone's will carry Leica lenses or whether Leica will its Huawei's smartphone cameras.
This strategic partnership could be a win-win for both companies with Leica's red dot giving an instant boost to Huawei's brand appeal while Huawei's market position has the world's third biggest brand could open up massive avenues for Leica.
Both companies have said more details will follow through "as the partnership continues."