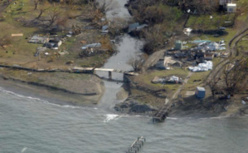 Extending a helping hand towards the victims of Fiji, the government of India announced an amount of "USD one million as immediate assistance" on Monday, the 22
nd
of February 2016.
Fiji was hit by a "severe cyclone" that devastated the city on Saturday, the 20
th
February 2016, whereby the natural calamity claimed the lives of twenty people.
In a tweet note, the Spokesperson of the Ministry of the External Affairs, wrote:
"Reaching out to a friend in need. India extends USD 1 million in immediate assistance to Fiji after devastating Cyclone Winston hits".
The severe cyclone that hit the island nation came along with gusts of wind speed at "325kmph" which was accompanied by giant waves that went as high as twelve metres. The invincible forces of nature flattened crops and raised villages to the ground.
So far, the reports have informed the death of "at least 20 people" in Fiji, while the cyclone that took place on Saturday, the 20
th
of February 2016, has been tagged as a "first degree cyclone".
References:
http://www.ndtv.com/