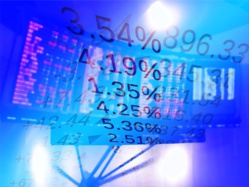 Those who have invested in the bull run which lifted the U.S. stock market in the past month, are now scrutinizing the Federal Reserve for cues regarding the pace of development surrounding the next hike in the lifting off of interest rates.

For those who believed that the United States was headed for a recession have sighed with relief as recent economic data has cleared their doubts and have fueled the rise of the S&P 500 index.

The improving domestic economic conditions could prod the Federal Reserve to speed up its creeping increase of interest rates and thus potentially dampen the enthusiasm for stocks.

With the Fed's upcoming policy meeting scheduled for Wednesday, many expect the central bank to not change key interest rates, since their first hike in December.

"It's going to be a session with parsing individual words in the statement about how likely the market believes the Fed is to move, how quickly they are going to move for the next hike," said Walter Todd, chief investment officer at Greenwood Capital Associates in Greenwood, South Carolina.

If the Federal Reserve were to increase the pace of the hike in interest rates, it is likely to potentially dampen the upward momentum of the stocks. Investors are largely betting on one hike in interest rates for the rest of the year, however, Todd said "the Fed in its last statement made it pretty clear that they want to go more than that."

According to CME Group FedWatch tool, traders are discounting any change in key rates in the upcoming meeting, this Wednesday.

"Everybody has planned accordingly for no action, so if there is an action I think that would have a negative effect on the market," said Jonathan Corpina, senior managing partner for Meridian Equity Partners, New York.

"The stock market rallied because we got evidence that we're not recessing and we were pricing in a recession," said Jim Paulsen, chief investment officer at Wells Capital Management in Minneapolis.

He went on to add, "But ultimately if the U.S. economy is OK, rates are going to be an issue."