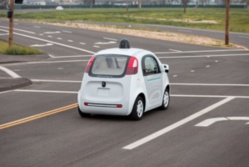 On Tuesday, it became known that NHTSA sees no difference whether there is a human driver or not in relation to the Google autonomous vehicle. Responding to Google request, the agency said that from a legal point of view, the car itself can be considered as a driver. «NHTSA will interpret the term "driver" in the context of Google car as an autonomous system, rather than people inside the car - says the letter dated 4 February.- We agree with that Google unmanned cars do not need a driver in the traditional sense of the word."
Such a decision of the US regulator is an absolute success for Google, as well as for all the self-car manufacturers as a whole. Now, creation of these machines occupies minds of not only leading automakers, but also high-tech companies. However, Google is still the favorite in this race, being able to build its own unmanned cars, while most competitors are installing the necessary technology into already existing models of traditional cars.
"If NHTSA is ready to recognize AI as an acceptable substitute for manned vehicles, it can significantly accelerate process of the emergence of unmanned cars on the roads," - said a senior analyst at research firm Kelley Blue Book Karl Brauer. Nevertheless, in the same letter, the management has sent Google a list of legal issues that companies have to solve before its unmanned cars will be able to move freely on US streets. Among these requirements, for example, the obligatory presence of a wheel and brake in the cabin, so that the passenger could take it over in the event of danger emergency. However, the corporation insists that human interference with the autopilot system can only be an additional risk factor on the road, and presence of the brake pedal and steering wheel in itself will encourage passengers to intervene in automation jobs.
source: reuters.com