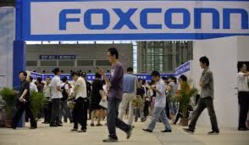 The Taiwanese iPhone assembler is putting the Sharp deal on hold after reviewing the Japanese firm's future financial risk said sources with knowledge about the matter even though Foxconn didn't elaborate in its statement. Sources said that a list of about ¥350 billion yen worth of "contingent liabilities" was received by Foxconn from Sharp on Wednesday.
Based on the outcome of lawsuits, accounting changes, supply contracts or other uncertainties, the costs that a company might face in the future are referred to as contingent liabilities.
Foxconn has not yet given up the deal but is reviewing the 100-item list, sources said.
"We already notified Sharp on the same day [before Sharp held its board meeting on Thursday] that our side had to clarify the contents. We have to postpone the signing before both sides can reach an agreement. We hope to clarify it quickly and to bring this deal to a successful conclusion," Foxconn said in its statement.
Since Sharp announced earlier Thursday that it had agreed to sell itself to Foxconn, the move came as a surprise to many. Foxconn had offered about ¥660 billion yen ($5.9 billion), sources said. The deal was valued at about ¥700 billion yen, or $6.24 billion, reported The Wall Street Journal on Thursday.
Sharp said it would issue new shares to Foxconn in exchange for an infusion of ¥489 billion in a regulatory filing earlier on Thursday.
Preferred shares held by two creditors—the core banking units of Mizuho Financial Group Inc. and Mitsubishi UFJ Financial Group Inc. would be bought by Foxconn for ¥100 billion, the newspaper said. Sharp shares, which initially rose, fell after its announcement, closing down 14.4% to ¥149.
Sharp declined to comment on Foxconn's statement.
People familiar with the matter said that ¥17.2 billion in contingent liabilities or about 5% of the ¥350 billion total had been specified in Sharp's annual 2015 report. However the newspaper also reported about several additional contingent liabilities without estimating their potential financial impact.
The potential costs related to the purchase of raw materials and electricity for making solar cells are included in this contingency cost list. a European Union antitrust investigation and North American civil lawsuits involving Sharp's panel business are other contingent liabilities.
the halting of the deal by Foxconn is the latest in a number of twists in a long running takeover battle for control of Sharp. Placed behind Innovation Network Corp. of Japan, a fund backed by the Japanese government, Taiwan's Foxconn was widely considered the underdog bidder. However in order to win over Sharp, a premium over INCJ had been agreed to be paid by Foxconn, officially known as Hon Hai Precision Industry Co.
(Source:www.wsj.com)