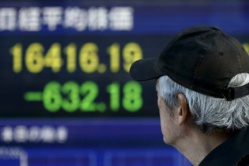 A swath of strong economic fundamentals from the United States and Australia have to an extent soothed the tired nerves of the world's economies.

Stock Markets across Asia were in the black led by markets in Hong Kong and Japan. China's decision last week to bring in structural reforms backed by its decision to cut its bank's reserve requirements have helped underpin sentiments.

The Nikkei shot up by 4% while Hong Kong's Hang Seng Index rose by 2.6%.

Building on the gains of the previous week, MSCI's broadest index of Asia-Pacific shares outside Japan also surged by 2% since January 7.

"While we remain cautious on the outlook, we don't think the global economy is going to tip into a recession. Much of the bad news is already priced into markets offering investors areas of opportunity," said Geoff Lewis, a senior strategist at Manulife Asset Management, Hong Kong.

Significantly, the closely monitored - Institute for Supply Management's (ISM) index of U.S. factory data rose more than analysts had expected it to rise. What took them by surprise was the fact that it snapped its near continuous fall since 2014 and rose steadily for the last two months.

"Following the sell-off and the fears of recession that emerged early in the new year, people pulled back aggressively from their previous expectations about how a rate hike from the Fed might unfold," said Stefan Worrall, director of Japan equity sales at Credit Suisse.

She went on to add, "Suddenly some of this lost confidence has been restored as we've seen a lot of recent economic data from the U.S. beating expectations."

The data saw the U.S. S&P 500 Index rise by 2.39% to its eight-week zenith of 1,978.35. Mirroring the rise was MSCI's broadest gauge of the world's stock markets which hit its two months high.

Even credit markets which were earlier down due to fears of growing bankruptcy, bounced back by 7% from its mid-February levels.

With the chances of an increase in U.S. interest rates, the attraction of the USD's yields wore off with the dollar-index rising briefly to touch its one month high against a basket of six major currencies.
In the Forex market the greenback rose to 114.05 against the Yen and recovered from its last month low of 111.

The Euro however touched its one month low of $1.08340 as investors expect the European Central Bank (ECB) to step up its monetary stimulus at its policy meeting, next week.

The oil market saw Brent crude peaking at $37.25 a barrel, from its 12-year low of $27.10 which it touched this January. The $10 hike, equivalent to a 37.5% increase is telling.

However, gains made by U.S. crude futures, which mirrored Brent crude's rise, took a downward turn in post-settlement trade when data pointed to a huge build-up of stockpiles, which were already at a record high.

Analysts and investors are also eyeing Donald Trump's election campaign since he is poised to strengthen his lead within the Republican presidential race.