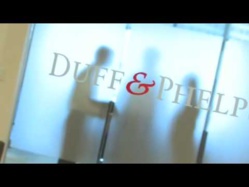 © Duff & Phelps
One of the most critical and complex sectors in financial advising is catering to the demands and requirements of C-level clients especially in the areas of valuation services, M&A advisory, compliance and regulatory consulting, etc.

"Our clients are typically C-level executives and board members; you can imagine how demanding they can be. They are constantly under pressure to make the right decisions and they expect us to be able to help them making these decisions," explains Yann Magnan, Managing Director at Duff & Phelps.

Help in the complex decisions that board members of corporate companies demand and expect entails that Duff & Phelps utilizes a particular analytical capacity, but also sectorial market knowledge and an independent position.

As Yann Magnan describes the requirement: "There are more financial issues and frequent financial crisis today. That generates uncertainty and our clients have to deal with it every day. Hence their need to call on experts with very robust, up-to-date experience and expertise in all the fields of valuation." Assessment, mergers and acquisitions, transactions, restructuring, alternative assets, litigation and taxation in varied industries are examples of the areas that Duff & Phelps advises clients on.

Magnan further explains: "Advisors at Duff & Phelps permanently scrutinize the evolution of standards and they actively take part in reflections about it. As our company has become a privileged interlocutor over time, we generally play a significant part in valuation standards setting".

The high level of expertise that the company has been able to attain is justified by the harsh competition between the few worldwide advisory firms: only companies of the right caliber survive the corporate jungle. According to Robert A. Bartell, Managing Director at Duff & Phelps, there is no shortage of financial corporate advisors, banking and valuation firms in this very competitive market. In this situation, "only the cream rises to the top", he says.

"The clients expect the best, i.e. technical experts and who have the highest standard of professionalism, who can protect confidentiality, but also who can be pragmatic. There are a lot of variables in transactions and structuring deals and in evaluating alternatives. Combining rigorous technical analysis with a thoughtful, pragmatic, client approach is essential," says Bartell.

Duff & Phelps claims that the expertise and talent to cater to specialized market segments begins at the top. According to Bartell, the experience and the caliber of the managing directors in the company is one of the factors that really differentiates Duff & Phelps.

The corporate culture at Duff & Phelps demands strict integrity and it starts from the top – with the managing directors. The company believes in "telling the truth and providing advice independent of our potential fee outcome is real integrity," Bartell explains.

Collaboration and working together is another crucial differentiating factor for the company which has helped it to gain a name as a long-term key interlocutor.

"Some of the largest clients in the firm have been our clients for 30+ years, because they know we're a long-term partner", says Bartell. There is a high level cooperation between the various units of the company, to such a point that the "compensation system applauds and encourages this working relationship". This helps the company to cater to very specific needs and clients from virtually every industry.

Yann Magnan, Managing Director at Duff & Phelps and member of the operating committee further explains: "Concerning complementarity, for instance, if I am asked by a client in France to perform a valuation related to a transaction and I don't have the specific transaction or opinion expertise, then I'll ask Bob (Robert A. Bartell) if he has someone in his group to work with me to make sure that we will bring the best expertise to the client. That's the way we operate at Duff & Phelps on a day-to-day basis."

As a matter of fact, one of the concepts that Duff & Phelps believes it has made the company the right horse, is its emphasis on what they call the "transaction continuum". This is a broad array of services focused on helping the clients grow globally, since Duff & Phelps provides specialized and personalized solutions to clients who like working with one firm while allowing them to deal with a core group of professionals.

This also has the virtue of creating an emotional attachment to the potential success of the clients. "They can call any managing director at any time and so they can bring the right subject matter expert to the table," Bartell says. "We don't focus on a "hit and run" approach like some investment banks have adopted. We honor our continuum approach and we truly want to stay in contact with our clients on an ongoing basis," says Henk Oosterhout, Managing Director at Duff & Phelps.

Maybe this is the reason that the company has managed to acquire 3,000 clients including 28 of the French CAC40 companies, 59 of Fortune 100 companies, 88 of Am Law 100 law firms, and 74% of largest private equity firms and hedge funds.

The company has a tradition for addressing complex business needs since its inception in 1932 and it has developed it further by augmenting itself with hiring the right people. The recruitments at the firm are such that they bring together boutique sector-specific features and strong background of financial advising.

For example, to cater to the specialized needs of the healthcare real estate sector, the company hired Laca Wong-Hammond in January 2015, who had previous experience of serving the segment at Raymond James, Shattuck Hammond Partners, Morgan Keegan and iStar Financial - JP Morgan's real estate and lodging investment banking group.

This is more or less the hiring criteria of the company where industry specific expertise is given importance beyond financial advising abilities, and this corporate culture has helped the company to make a strong name for itself in serving industry specific valuation services.