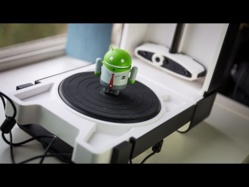 With 3D printing being the rage in today's cutting edge manufacturing process, the increase interest in 3D scanners is a matter of only a logical conclusion. CowTech has proven that you do not have to sell your heart and kidney to one.
CowTech has released a 3D scanner that it calls Ciclop. It's an open source 3D scanner which comes equipped with two lasers and a Logitech webcam which can capture images in 720p, all for a price of $100.
CowTech's Ciclop has the same resolution of 0.5mm as the lot pricier Digitizer from MakerBot. This version is based on another of its $400 product – the
BQ Ciclop
, but thanks to a few neat tweaks it has seen a price drop of $99. It even shares the same open-source software as the BQ Ciclop.
Before you can start using it, you will need to print some of its parts from your own 3D printer. The Ciclop uses an Arduino shield and other not so expensive parts, thus the overall cost of ownership is significantly lower. Even a small 3D printer which has a print bed of at least 115mm x 110mm x 65mm will do. If you have handled other DIY projects you will excel at this.
With the Ciclop, expect to capture details of object measuring as little as 200mm wide and 205mm tall. What is even better is that the Ciclop can complete the capture in just a matter of 2 to 8 minutes.
Following its rousing kickstarter campaign, expect the $99 kit to arrive early in April.