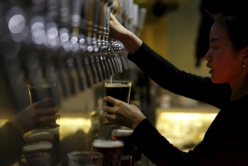 In the series of divestment taking places in the wake of Anheuser-Busch InBev's acquisition of SABMiller, China Resources Beer will now buy SABMiller's $1.6 billion stake in its China Resources Snow Breweries venture. The sale of the 49% stake will help AB-InBev get regulatory approval from Beijing.

This deal is godsend for the Chinese-state backed company as the asking price was much lower than it expected it to be, thus sending its shares soaring by a quarter in value.

As per Jeremy Yeo, an analyst with Mizuho Securities Asia, the price of $1.6 billion was significantly low than the market expectation of $3 to 3.5 billion.

Additionally, this deal will now give China Resources Beer (Holdings) Co Ltd, 100% control over Snow, which happens to be the world's top selling beer company by volume.

"This news, in itself is positive for CR Beer's shareholders, from the standpoint of better-than-expected potential near-term EPS accretion," wrote Yeo in a note to clients.

The Snow deal is obviously contingent of the AB InBev-SAB Miller deal going through. The Snow deal will position China Resources as the largest brewer in the country with a market share of 30%. China Resources Beer has disclosed that the AB InBev deal is in the processing of being settled, using a combination of funding options including debt and/or equity options.

With this news reaching the markets, shares of China Resources Beer surged by 25% to their five year high, regaining lost grounds after the stock was dropped from the main constituents in the Hang Seng Index following a regular review by the index compiler.

"The deal will definitely bring in some positive impact to the company, both in enhancing its market share and prospects in the local beer industry," said Leung, sales director at UOB Kay Hian, Hong Kong. He went to add that the deal came much earlier than was expected.

As per data from Euromonitor, China Resources had captured 23.3% of the Chinese beer market with Tsingtao Brewery coming in second at 18.4%, in 2014.

Last April, China Resources Enterprise became China Resources Beer after selling its non-beer related assets to China Resources (Holdings) Co., a controlling shareholder, for $3.6 billion.

As per its statement, China Resources Snow Breweries had a net asset value of HK$27.2 billion ($3.5 billion) at the end of last year. Its net profits had fallen by 21% to HK$1.51 billion in 2014 in comparison to the previous year.