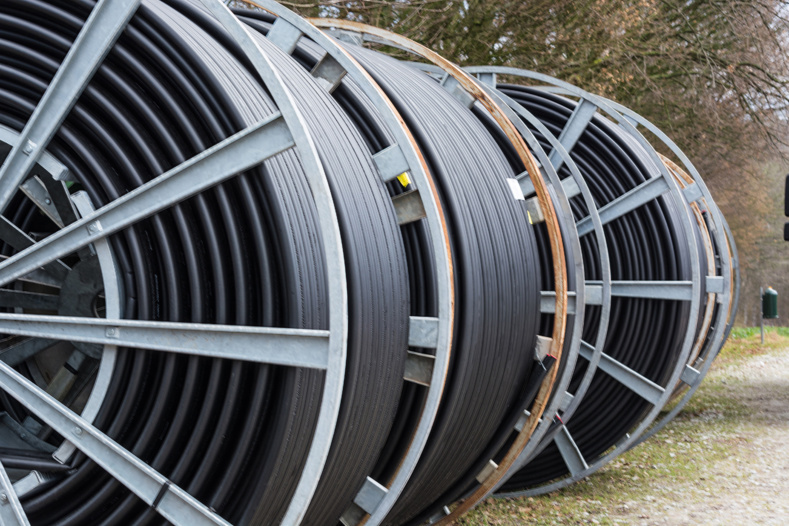 The Broadband Europe plan for 2025 has outlined the EU's unquestionable ambition when it comes to digital;
about 20%
of the European budget for the period 2021-2027 is being dedicated to the digital sector. The commission understands that the materiality of major digital development depends on territorial deployment.
All digital actors including state and local authorities, IT firms and field management providers, are therefore transforming themselves to meet the operational challenges of sustainable development as the acceleration in digitalisation threatens to increase
digital polarisation
between firms. This is putting pressure on the global corporate landscape which is being dominated by conglomerates with easy access to the latest digital innovations, leaving the rest behind and having an adverse effect on productivity. These issues are at the forefront on the European Union's plan to have full digital coverage across Europe by 2030.
Fibre optic in Europe
In the framework of Europe's
Digital Decade
targets for 2030, including Gigabit and 5G connections for everyone, 10,000 climate-neutral highly secure edge nodes, 75% of EU companies using Cloud/AI/Big Data, e-health for 100% of citizens and 80% using digital IDs, the FTTH Council Europe has accelerated its efforts to provide fibre-to-the-home/business across the EU39,
reaching
nearly 182.6 million premises in September 2020 (up 10 million on the year before).
According
to their
Market Panorama
for 2021, by September 2020, the EU39 area reached a 52.5% coverage of FTTH/B networks while the EU27+UK 3 sits at 43.8%, compared to respectively 49.9% and 39.4% in 2019. This shows a clear upward trend from the September 2015 figures when the coverage was at 39.8% in EU39 and 27.2% in EU27+UK.
The countries most active in fibre deployment are France, (+4,6 M), Italy (+2,8 M), Germany (+2,7 M) and the UK (+1,7 M). France, for example, outlined in a recent
progress report
on the rollout of super fast broadband that territorial disparities within the
métropole
have been driving its efforts to develop fibre infrastructure, noting however that
"not all territories have the same propensity to transform this technological potential into a competitive advantage,"
highlighting "
the need to accompany the arrival of networks by supporting demand (encouraging their adoption by households) or taking measures to support the development of usage practices (training and support for SMEs in particular)."
Disparities
In spite of the widely reported efforts to expand fibre coverage (and digital access more generally) across Europe, there remains a real digital divide both territorially (only 20.2% of households are subscribed to FTTH/B in the EU27+UK), and between firms in different sectors. According to a recent
study
by the European Investment Bank,
"there is growing concern that EU firms in non-digital sectors lag behind in the adoption of digital technologies, especially in the services sector."
The disparities in fibre optic coverage entail
inequalities
at both intra- and international levels. While some countries are close to full FTTH/B coverage, such as Portugal (83%), Spain (88%) and Iceland (90%), others, such as the UK, are lagging behind with coverage at around 15%, with nearly 24 million homes still to be passed with fibre. Germany is in the same boat, with coverage at around 16%.
A new economic landscape
With the post-pandemic economic landscape in the middle of a period of decentralisation, as people and firms move away from metropoles and spread out, creating more regional economic hubs, the strategic need for developing fibre coverage and tackling the problem of 'dead zones' has never seemed so essential, especially with the generalisation of (at least partial) remote working, notably in the services sector. The EU27
average
for remote working in 2020 was 12.3%, for example.
The goal is to allow the economy to continue to thrive whatever the circumstances, and to enable companies in areas of activity far from major urban centres to have the same quality of digital connectivity, which in turn will benefit their suppliers, subcontractors and customers, and avoid a major competitive handicap. "Fibre providers must innovate to deliver fibre fit for our post-pandemic and future needs,"
according
to Wim te Niet, vice president, sales EMEA, EXFO.
Agents of the relaunch
Bridging the digital divide in Europe means activating a dense network of actors across the continent who can efficiently manage digital rollout on the ground (5G, fibre etc,.). The EU has shown its political will to implement a series of public policies to expand fibre coverage across the continent and beyond (UK). The development of this infrastructure
involves
Physical Infrastructure Providers (PIP - backbone/access area), Network Providers (NP) and Service Providers (SP), each with a key role to play in the value chain.
These actors are the key to opening up digital access at the local level. One example is MasMovil, the Spanish telecom firm and fourth-largest provider in Spain that offers landline, mobile, high- and ultra high-speed Internet services through several leading brands: Yoigo, Pepephone, Hits Mobile Lebara, and Llamay. The firm recently
sold
a majority stake in its fibre optic network covering 1.1 million rural homes across Spain to independent operator Onivia. MasMovil's FTTH network includes over a thousand municipalities with fewer than 25,000 inhabitants. Moreover, MAsMovil has most recently entered into
negotiations with Orange
, to create a joint venture, "building on highly complementary business models as well as an existing successful collaboration".
MasMovil also recently
teamed up
with the French field management specialists Solutions 30, which by the way is also an Orange confirmed partner, for the installation and maintenance services for its high and ultra-high speed broadband services in Spain. Solutions 30 is a prime example of a company well placed to oversee fibre deployment across the 10 European territories where it currently operates, often in collaboration with local actors. For example, it
recently signed
an ambitious contract worth €210 million in Italy for fibre rollout in several northern regions, with TIM set to take a leading role in the development of a single national network.
Julian González, Masmovil
'
s purchasing director noted that
"
Solutions 30 is one of our longstanding partners, one who has proven the quality of their services, as well as their commitment to our customers. That is why we have chosen them to help roll out our solutions in these new regions."
These few examples really underline the European dynamic currently in progress. As Gianbeppi Fortis, President of Solutions 30,
remarked
: "We can really see how Europe is getting going again, with absolutely colossal amounts invested, and many countries having launched plans similar to what was launched in France 4-5 years ago."
The objectives of the Broadband Europe plan and the digital decade initiatives depend on these actors with local, specialised knowledge able to respond to the pressing issues resulting from the digital divide. Full FTTH/B coverage across Europe by 2030 may be a big ask, but it is certainly not out of reach.