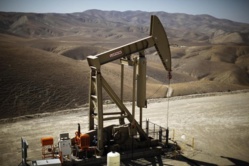 Weak Chinese trading data has yet again caused oil prices to slide with Brent crude, the only exception, still holding onto the $40 a barrel price tag. This is despite producer's announcement of talks to bring about a mechanism to support market prices and investors betting on a bull ride.

Despite being down by 52 cents from its previous settlement, Brent crude futures LOC1c1 managed to defend its position at $40.32 on 0359 GMT. Yesterday, oil contracts had surged by more than 5.5% during intra-day trading thus gaining 49% from its January 20 low.

However, U.S. West Texas Intermediate (WTI) crude futures were seen trading down by 42 cents at $37.48 a barrel from their previous close. WTI crude futures have also appreciated by 45% from the February 11 low.

As per available data, crude imports by China has risen by 19.1% during the period of January to February to 31.80 million tonnes, which amounts to nearly 8 million barrels per day.

"Higher 'teapot' (independent refinery) demand and stronger refining margins which encouraged higher refinery throughputs have contributed to increased imports. Falling domestic crude production is also supportive," said Virendra Chauhan of Energy Aspects in Singapore.

Despite rising consumption and strong demands, questions are being raised as to whether this pattern of consumption can be sustained in view of the weakening Chinese economic activity. China's exports have plummeted by a quarter last month, its worst since 2009.

As per available data from the China Passenger Car Association, vehicles sales in China, which is a key driver for its domestic demand, have fallen by 3.7% to 1.37 million.

"This is really a poor start for trade this year," said Zhang Yongjun, senior economist at the China Center for International Economic Exchanges.

The tussle of Bulls or Bears
Although crude oil prices marching steadily downwards from the 2015, they have however gained significant traction this year. Last Week Russia's energy Minister disclosed that Organization of Petroleum Exporting Countries (OPEC) and Non-OPEC oil producers are set to meet between March 20 and April 1, to hammer out a plan on freezing oil productions to their previous levels.

South American producers have also backed this move and have said yesterday that they would convene a meeting to discuss means on supporting oil prices.

As per Gary Ross, executive chairman PIRA, a New York-based consultancy firm, you can expect oil prices to hover at $50 a barrel by the end of this year.

"They (OPEC) want $50 oil, this is going to become the new anchor for global oil prices," said Ross.
Factoring in this news, oil traders have now started to cut back on their short positions and have opened up new long positions, which would benefit from higher prices.

Singapore-based Phillips Futures has taken a more cautious approach.

"The main change in fundamentals ... comes from the declining U.S. crude production. Besides this change, we do not see other changes to supply as other factors mainly involve talks rather than concrete movements," said the brokerage firm.

It went on to add, "These talks involve major producers meeting to negotiate a production freeze. However, with the current oversupply issue; a freeze should be barely enough."