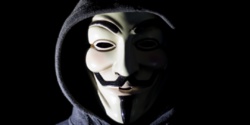 America's leading presidential candidate for the Republican Party, has once again found himself in the cross-hairs of Anonymous, a group of expert hacktivists.
On March 4, Anonymous posted a video declaring "total war" on the presidential hopeful. The hacktivists aim to not only bring down most of Donald Trump's sites but also put a stop to his presidential bid by uncovering and exposing potentially embarrassing information.
"We need you to shut down his campaign and sabotage his brand," said an individual wearing a Guy Fawkes mask in the YouTube video.
Apparently Trump's ideas and speeches seems to have hit a nerve. The masked individual in the video states that "your inconsistent and hateful campaign has not only shocked the United States of America, you have shocked the entire planet with your appalling actions and ideas."
The collective has asked for help from members of the public using the #OpTrump hashtag. It plans on bringing down TrumpChicago.com on April 1, also known as April fool's day.
More significantly, it also plans on targeting Donald Trump's business and personal sites, including donaldtrump2016online.com, donaldjtrump.com, trumphotelcollection.com, citizensfortrump.com and trump.com.
Already the hacktivists have posted online unverified private information regarding him and his personal staff, including social security numbers.
This will be the second time the hacktivists have targeted Trump. Earlier Anonymous
had posted a video on YouTube
that relate to his comments on Muslims.